Last updated on June 14, 2023
The Power of Blog Comments,
A Great Strategy To Get More Traffic And Relationships.
Blog Comments Role In Blogging
Blog Comments can play a vital role in our blogging journey.  A ton of material has been written on Blog Comments by many expert authors on the pages of the internet.
But still, different experiences of bloggers are pouring in on the spaces of the internet in relation to blog comments!
Power Of Blog Comments  – Some Personal Stories
I too have published a few such notes on this subject elsewhere on my blog pages, blog communities, forums, and social media pages.
In this post, I wanted to share yet another interesting experience and a tip, trick, or strategy on blog commenting for you to count on.
Blog comments can play a vital role in our blogging journey. via Philipscom
Click To Tweet
"Nice to meet you, Philip I would like to speak to you now, can I?"
The time was a bit odd hour and everyone around me was sleeping and I expressed my inability to speak over the phone, and then he wrote,
ok fine, Philip, U r a writer at some big sites, right?
I said No, I am not a writer on any big sites but I do write on my pages and share all around via my social sites, that's it.
Then he said: "hey, I saw your write-ups on The Huffington Post that was really fantastic."
To that, I said:  Oh, that was a guest post published on behalf of me by one of my online friends.
To this, he said:  Hey, how are you building a relationship with foreign bloggers?  I saw wonderful testimonials on your blog by some famous personalities.
To that question, I wrote:  "That's a big story, yes, and my relationship with writers around the world started almost 8 or 9 years back when I first start writing on the pages of Google's Knol pages.
That was the end of that chat.
Blog Comments And Influencers
Yes, our constructive and value-added comments on influencers' sites will surely get the attention of the site owners as well as their regular visitors.
In short, this was one of the best strategies I adopt in connection with my blogging journey.
Blog comments can bring in backlinks
It is no doubt a proven fact that our thought-provoking and relevant comments can do wonders for our sites. It can bring a lot of traffic to your site as well as build relationship with other site owners and can extend your business collaborations.
Matthew Woodward the UK-based marketing strategist and SEO Guru in a recently published post on building powerful Gov backlinks said as the number one strategy is commenting on government sites.
Here below I am re-publishing the infographic for your reference. Yes, comment strategy works well with many areas in online business.
Also in another exclusive post on blog comments, he wrote: How do you start increasing your search traffic and building links if you have no cash and no connections?   The answer is simple:  Blog commenting.
Building powerful Gov. Backlink the number one strategy is to comment on their sites says Mattew Woodward. The Power of Blog Comments
Click To Tweet
Do you need more followers?
Oleg Vishnepolsky  I am sure, a BIG YES will be your answer. If yes, follow this strategy, noted down by the well-known Influencer Oleg Vishnepolsky, on his LinkedIn pages.  Oleg is the Global CTO (Chief Technology Officer) of Daily Mail, London, UKHe said and I quote:
Linked hack #7
You need more FOLLOWERS.
Here is how you can grow!
When you see a post with lots of comments, it is like pure gold, but you don't have to dig for it.
Put likes on the comments of others.
When you do that, people will appreciate your support, everyone needs it.
And then – they will connect to you.
And your network and theirs grow!
And everyone wins!
"We rise by lifting others." Agree?
​Yes, no doubt this is one of the best strategies to grow online and to get more comments and appreciation. 
Oleg's LinkedIn Notification and likes and comments
I started this even without having a blog page of my own, you can read some of that write-ups on my blog at #Philipscom on these subjects (and I posted a few links to read),
In short, I started my blogging journey as a blog comment author without having a blog of my own, not even on the free sites like Blogger dot com or WordPress dot com. 
Without having a blog of my own, my comments got attracted by many bloggers in Associated Content, Google's Knol pages, and various other platforms.
The co-authors there encouraged me to start a blog of my own, thus I started a blog on blogger dot com. and on a later stage, I migrated it on the pages of WordPress with my own domain pvariel.com
Just two years completed and with all humbleness, I can say that now our Domain Authority (DA) and Alexa stats are now at a higher level and I am getting some monetary benefits too because of the traffic boost I get on my sites.
Check out the following links to get an overall view of these facts.  The screenshots are given below:
The Latest Screenshot of Our Alexa Rank:
Philipscom Alexa Rank as of June 16, 2021
I could achieve these positions just because of my relentless activities on my blog pages as well as by the interaction with the fellow blogger's pages by contributing value-added constructive and debatable comments.
Philipscom's Latest (Domain Authority) Moz Rank Screenshot:
I am really surprised to note that the above conversation happened not just with a newbie blogger instead, a well-established or a pro blogger, a public speaker who conducts seminars, conferences, and workshops all over India.
That really surprised me and I am sure this all happened just because of the basic thing the power of #blogcomments, or in other words, the powerful strategy of blog commenting on fellow bloggers posts.
I just mentioned this incident in this post, just to show the importance OR the power of blog comments
You can get into the good books of influencers by following this strategy very diplomatically.  I am confident that, I answered my friend's query or anxiety through my conversation as well as through this post.
You can get into the good books of influencers by following this strategy. via pvariel.com
Click To Tweet
Yes, I repeat "Your relentless work on this strategy will help to achieve unexpected results" I am also sure that this never happens in a few days' time.
Instead, it takes a lot of your time and indeed the continuous hard work you need to put behind this to happen.
But at the same time, I can very well say that this is not a big thing too!  Your dedication along with the hard work can fetch great results in these aspects. I put these tips in nutshell in the short video given below:
I am sure, you can get into the good books of influencers by following this strategy very diplomatically.
Power of blog comments and Backlinks – Check out What Neil Patel Found Out From an Experiment! 
Read on what he found:  Do backlinks from blog comments actually, help rankings? 
After a few months of experiments on this aspect, he found a BIG Yes, to this question.  Check out his post: Do High DA Backlinks From Blog Comments Help Rankings?
Here is what I commented on that post:
Hi Neil,
It is indeed a great share. You did a wonderful job on the subject blog comments.
Blog comments can really do wonders. In a recently published expert roundup post I noted, blog comments can do a wonderful job in link building.
Yes, our value-added comments can do wonders on others' posts, It should be the one that comes from the bottom of the heart.
Not just to get a backlink. One should not do this to get a backlink to their space.
Of course, seeking a backlink from a high DA site is not a bad thing but you need to leave value to the blogger when you expect something from them.
Posting a mere one word or generic comments on other blog posts looks odd.
Please don't do it!
To my pleasant surprise, Neil too is accepting such comments here on this esteemed platform. This may be because those are no-follow links.
I have posted an article and recently updated the post by mentioning this blog post on comments. I am so glad to share the link of that post here.
To Get The Power Of Blog Comments Avoid Generic Or One Word Or One line Comments in Blog Comments
An example of generic comments 
Avoid using words like a good one, awesome, it's very nice, It's really nice, thanks to you, wonderful, amazing post, great post, I like it, I love it. Keep writing etc in your comments.
Check out the following screenshots of comments made in a few minutes' time. No doubt, these types of comments are made to get backlinks.
See the time gap the person made to post the comments in three different posts. (see the red arrows in the screenshot).
This surely shows that the comment author did not even bother to read the post before posting the comment, but he posted these comments to get back a link to his page.  This type of strategy is not a good one.  Sad to note that, even some blog owners just accept such comments on their blog to show the comment strength.  This too is not a good practice in blogging.
Accepting one line or one-word generic comments to show the comment number is not a good practice in blogging. Read more on @pvariel.com
Click To Tweet
I am sure your purpose of posting such comments on other's pages will not fetch any results.  Instead, such one-line or one-word comments are an irritation to blog authors, though some may accept, serious blog owners never care for such comments, and most often such comments may not even see the light of the day.
So, be careful while making such generic comments on other's pages.
There are many different types of comments, here is a comment I posted on Pro. Blogger Mi Muba's page  (he was otherwise known as "Money Blogger") blog.
He put that comment into the category of the mini-post comment.  Check out what he said about such comments in the below-given screenshot.
CommentLuv Blog Comments And Power Of Blog Comments

Make solid, relevant comments on the subject, or ask or raise some doubts in relation to the subject through your comments, sometimes that may pave the way to a  great debate or a discussion.
So, before making a comment, the first and foremost thing is to read the post well and make sure you understood the content, and then post your genuine opinion or your suggestion in the form of feedback.
If they are running a comment option like the CommentLuv Do follow link option it is more beneficial.  Select such pages and comment,  you will get back some backlinks to your page.
Here is a great list of blogs that use CommentLuv comment option. This list is compiled and published by Robin Khokhar of the TrickyEnough website. Check out this list, visit and comment to get backlinks on your pages. CommentLuv Comment  Option with Do follow links. 
Power of Blog Comments – A Word of Caution  
There are some people who just have a look at the first and last paragraph of the content and say something and go, such comments can easily be recognized and know that this man or woman posted that comment just to get a backlink from the high-ranking site.
This is not a good trend to practice, so make sure, you make solid and constructive comments relevant to the published post.
That may invite others' attention and it eventually leads others to your page, just because of that comment.
I am saying it from my own experience.  So try to visit other's pages and write comments from the heart.
Sprinkling Links With Blog Comments Will lessen the Power of blog comments
There is another kind of comment authors.  They visit high-ranking platforms and blogs and then post comments with their site links.  Some of them use the same comment everywhere with their page links.
No Link Dropping Please! Says Professional Blogger Lesly Federici
Here is a classic example of one such incident that happened in a forum called Daily Blog Share Inner Circle Facebook Group created and managed by Lesly Federici.  It is an engaging Facebook group and it is free.
She created a small YouTube video for the new members.  She says and I quote:
"Okay .. let's stop the useless link dropping that is an epidemic in social media groups and on blogs. It does NOTHING for you! Zip nada.. such a waste of time, effort, and a loss, where you could be building relationships instead .. yes?
LINK DROPPING – ONE EXAMPLE ON THE BIZSUGAR PLATFORM
These people mostly aim for high-ranking platforms groups and forums.
But one thing is for sure that such people's comments will be deleted and soon they will be banned from the platform.
Here is one such example I noticed today.  He posted a comment on one of my recent shares which is not relevant to the post.  And later I found that the same comment with his link is posted on several other shared posts on the same day in a few minutes gaps on that platform.
This is found on the pages of one of the famous content curation sites named BizSugar.
The same person last week did the same thing by posting only his site link on several posts within a short period of time, and I alerted some of the moderators about this and they immediately removed his comment.
Sad to note that again today (10.07.2018) he appeared with a comment with his link.
I still wonder why Bizsugar is not banning such scam comment authors from their platform.
But still, I wonder how this person showing his face on the same platform.
Is not there any hard rule to ban or warn such scam commenters?
Here below I am posting the screenshots of his comments and my reaction to them.
Power of  Blog Comments – The Best Strategy To Follow! 
In a recent expert roundup post created by Hussain Omar of  CostEffectiveSEO I have mentioned this as an SEO Quote:
To read more such quotes from other experts please click on this link:  COSTEFFECTIVE SEO ROUNDUP

Power of Blog comments And The Give And Take Policy
Or in other words to get more interaction, use or apply the
Give and Take policy

, or in other words,

give first and take later policy
.
  I am sure this will work well if we follow it faithfully or genuinely.
By using this method there are chances to visit more and more people to our blog pages and post their feedback.  This way you can increase the visibility of your page and consequently increase the flow of traffic.
Following this strategy and the popularity of your page by way of promotion through various social media and through other methods your comment box will fill with a lot of comments!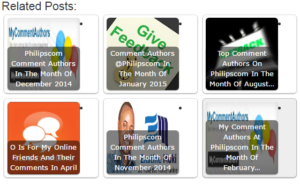 Then, comments flow to our pages on large scale, and ultimately reaching their pages with our feedback or the reciprocatory comments will again be a big task and sometimes due to the heavy workload,
it may not happen immediately (watch the above video where I mentioned this).
  MyCommentAuthors   Plugin And The Power Of Blog Comments
In such a situation, there is an option, or let me say a savior, an amazing plugin by the name "MyCommentAuthors" created by one of our online friends Enstine Muki of Make Money Blogging' website.
He developed a plugin that helps us to create a list of our
monthly comment authors on our sites. 
With this plugin, I am creating a post every month to express a word of thanks to our comment authors for their valuable presence on our page.
With this plugin, we can create an automatic mailing list of the people who commented on that month.
In fact, this eases a lot of our work, I mean manually creating a list and sending a mail to each one of them is indeed a difficult job.
This plugin takes care of that part and will send a mail-in in this regard to all the comment authors on that month.
Some of the screenshots of that process of sending thanks, notes to each of our comment authors can see here.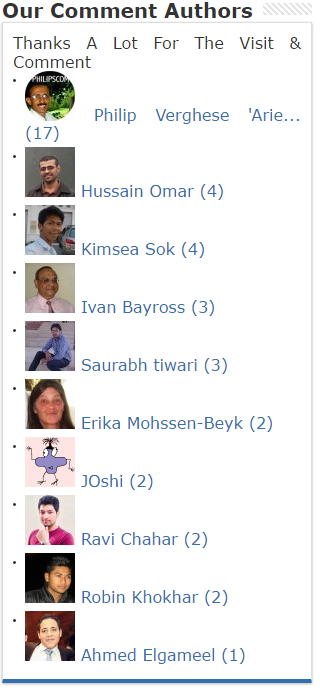 MONTHLY SERIES ON MY COMMENT AUTHORS
This monthly series (My Comment Authors on the pages of Philipscom), We publish every first week of the month with my comment author's name, their profile picture, and their blog URLs.  I am using this plugin since its inception.
Every first week of the month with my comment author's name, their profile picture, and their blog URLs.  I am using this plugin since its inception.
Please check out the following pictures:
Out of the total comment authors, we can give a special honor or mention of the top comment author of that month.  This will surely be a kind of encouragement to our visitors and comment authors.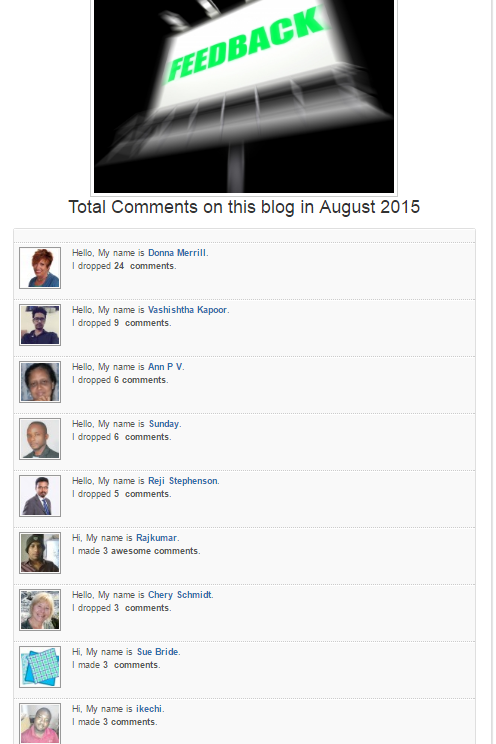 As I say and do every time, I reciprocate your valuable time by visiting your pages and dropping my feedback.
When I write these concluding words I am reminded of Enstine Muki the developer of this wonderful plugin (MyCommentAuthors)  who mentioned me in one of his latest posts VERY FEW bloggers are doing this one thing and succeeding remarkably!  In this post, he very well emphasized the importance of reciprocity in blog commenting.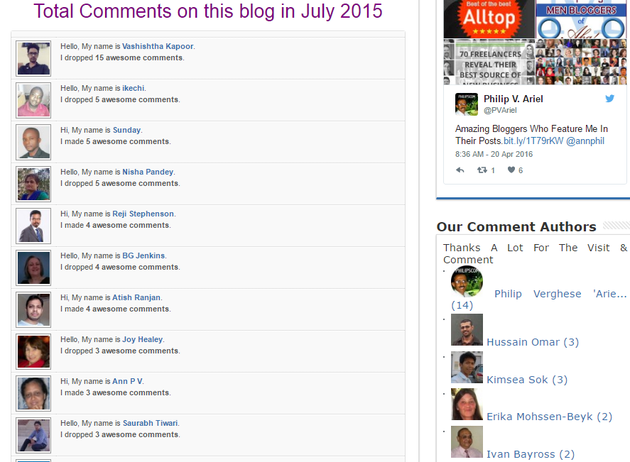 WORD OF THANKS TO THE COMMENT WRITERS
In fact, it is a must to say a word of thanks or visiting back their page and reciprocate by adding our valuable responses to their posts.
This plugin will take care of half of that job by saying a word of thanks to your esteemed comment authors.
In a nutshell, "Your value-added blog comments can fetch many benefits along the way, which includes tons of traffic as well as it paves the way to make good relationship with influencers.
I short, Indeed Blog comments can play a vital role in our blogging journey!
But sad to note that, these days many famous bloggers shut this facility to its readers!
That is to say, they simply closed their comment options on their pages the reason only known to them.  Seeing this trend I raised this question in one of the famous curating platforms called Inbound now it is  GrowthOrg.
Is Blog Commenting Dead?
 —  from Philip Verghese 'Ariel'  
3795 views
As per my conviction, blog commenting is a vital part of blogging! In fact, I believe that it is life-giving blood to blogging and bloggers!
But these days some bloggers literally shut their comment box columns. Is it because they are not getting any comments. Or any other reasons?
Share your views, opinion, suggestion. is it a must or not?
@PVAriel
Here is the screenshot and link to that page, a good number of people respond to that post.
A Video to watch about the power of  blog comments by Matthew Cutts of Google
Let's listen to Matthew Cutts otherwise known as Matt Cutts The American software engineer and novelist.
The former head of the webspam team at Google presently works for the United States Digital Service as the director of engineering. A well-known authority on web-related matters.  Listen to Matt Cutts:
Use this wonderful strategy of commenting on others' pages wisely to get more comments, traffic, and of course the added advantage of making relationships or friendships with others.

I also take this time to tender an apology for deleting or taking out one word from the generated posts.
That is the word "Awesome" he used along with the comments. such as "I made6   awesome comments" I cannot give the word Awesome along with the word comment.
The word 'Awesome' should go along with the word "God Almighty" alone, this is my firm belief.
THE GOOGLE SEARCH TELLS IT ALL
The other day while I was casually searching for something on Google I just did a search and found this post ranked on Google's Page 1.
This is really a great moment to mention in this post.  See below the screenshot of the search.
I express our thanks once again to all who visited these pages and shared your views in the comment box.  I appreciate your relentless support extended to this site, and expect the same in the days ahead.
We will continue to publish more informative and educational content to all who are visiting this site.  I assure you to maintain the quality of this site's contents to the benefit of my visitors' subscribers and other readers.
Power of Blog Comments Or the Benefits of Commenting on Blogs
The other day I found an informative post on the benefits of blog commenting on blogs, written by a professional blogger Alice Elliot, who gives much emphasis on the importance of blog commenting on her website.
A few years back she started a website "The blog commenting club" exclusively focusing on the subject of blog commenting.
Last year she featured me on this amazing website under the title Philip V Ariel's Commenting Experience
Benefits Of Commenting On Blogs 
Checkout the below  Infographic.
Read more on her post; " 8 benefits of commenting on blogs"
If you are a blogger and value blog commenting it is a must page to visit. I recommend you to visit her page to read more on blog commenting.
Also, please please check out Enstine's website to get an idea about this plugin and its installation process. He posted a simple tutorial on this plugin under the title: Boost Traffic & Engagement
Thanks, Enstine for permitting me to take this opportunity to use your wonderful free plugin for creating this wonderful comment authors' list.
Once again I express my heartfelt thanks to all my visitors and comment authors for your valuable time on our page.
If time permits please do visit these platforms where you can get some more tips on blog comments and the power they can make on our blog posts.
Is Blog commenting out of fashion 
Some bloggers think that it is out of fashion. The reason they point out is the influence of social media and it's quick process, response and availability.
Alice Elliot in yet another infographic content says about the missing factor if you comment on social media. She says and i quote: "You are missing out on a valuable source of engagement you won't get from commenting on social media.
Start Commenting On Blogs Again 
Check out the below embedded infographics to know, why you should start Commenting on blogs again!

Blog commenting few related posts 
1. How To Get More Comments On Your Blog Posts by Atish Ranjan
2. 

Effect Of Comments On Blog Traffic: A Case Study by Harsh Agarwal
3.  Check out this discussion about blog comments and the feedback of the members there on Inbound platform now GrowthHub
For Philipscom Associates
Updated on June 30,2022
Updated on: Apr 9, 2021
Updated on: May 30, 2019
Updated on Mar 12, 2018 @ 22:08
Updated on on: Jul 9, 2018 @ 12:16
Last updated on on: May 9, 2018 @ 12:06
Published on: Jan 30, 2019 @ 00:18
Dear Reader,
Thank you so much for your valuable time.
I appreciate!
I love your feedback/comments!
Some of you know I entered the blogging arena as a blog comment author.
Yes, once upon a time I was a comment author without a blog!
Yes, I do visit fellow bloggers pages and drop valuable comments and that lead me to start a blog of my own.
Of course, that is a big story and you can read that elsewhere on these pages
Coming to the point, I accept feedback from my readers and often I do reciprocate.
Your feedback negative or positive, I would like to hear from you.
But there is a slight restriction/rule in this regard.
otherwise, you may miss the mark and your comments may not get approved!
So please do share your views in the comment box keeping the comment policy of Philipscom,
In short, Philipscom will not approve comments that
1.  Are One word or one line.
2.  Are abusive, intimidating, threatening or inflammatory
3.  Make offensive generalizations
4.  Ramble without a point
5.  Use offensive or insensitive language
6.  Typed all in CAPITAL Letters.
7.  Typed in a language other than English
8.  Are irrelevant to the post in question
9.  Contain self-promotional materials or links
10.  Give 
unnecessary
, advice to Philipscom
Philipscom also reserves the right to edit comments or to remove material that does not conform to our comment policy.
Check your domain ranking