Last updated on January 17, 2019
Last updated on January 17, 2019.
We must know the importance of SEO factors while building a blog or website. There are several SEO factors that Google considers before ranking your website. There were many factors that were important in the past but now no longer given importance.
Before we go into the details, in the first place, let's examine what is SEO?
What is SEO?
SEO has always been in existence since the search engines existed.
There are two methods of doing SEO – white hat and black hat. White hat is about doing the SEO as per the Google's specifications and black hat is getting higher rankings by malpractices.
Black hat is never recommended but when it comes to white hat, people use to overdo something which alerted Google and things change.
There are things which used to be effective once but not anymore and they are like
Article Submission
Classifieds Submission
Directory Submissions
Forum postings
Profile creation
Chasing .edu and .gov links etc
All the above methods are no more effective, in fact, if done now, you might face the penalty from Google. Being said that, there are some SEO factors or methods which are important and will always remain important for getting high ranks.
7 SEO Strategies you need to look seriously this year. A Guest Post by SEO Expert Pankaj Dhawan
Click To Tweet
1. Keyword Search
The first thing to remember is about the keywords we use.  All the search is based on a keyword – by typing or now mostly by voice.
Some experts say that voice is taking over and so you should optimize your site for voice search as well but as per my opinion, it is after all keywords, be it voice or texts that get you the results.
You always should do keyword research before writing an article. But also, keep in mind, that you can't always do research before writing every single article and hence it is okay to write an article where you didn't do keyword research.
The best tool that I use for a keyword is Keyword Planner by Google itself.
Keyword Search will stay as the part of SEO factors in 2017 and in long-term future.
2. Quality Content Includes the List of SEO Factors
Google is updating its algorithm just to penalize sites that are overdoing SEO but not working on the quality of the articles. For example, if you are over-commenting, over-backlinking, over-optimizing, too much keyword stuffing, all these will get you to penalty and even removal from search engine results.
Content is King
This has been said enough number of times now and is true. If writing more in-depth high-quality content, you can get ahead of big players as well.
Writing quality content is also being suggested by Professional writer like Zac Johnson.
How do you write quality content? There are several methods you can use but one I would say is that it should be unique, second, it should have detailed information, third, it should be readable with sub-headings and fourth, it should have proper images and videos plus the references and other data-driven information.
All these things make your article great!




3. Mobile friendly Another One In SEO Factors
As per research by Morgan Stanley and published by ComScore, mobile users are increasing everyday surpassing desktop or PC users when it comes to internet usage.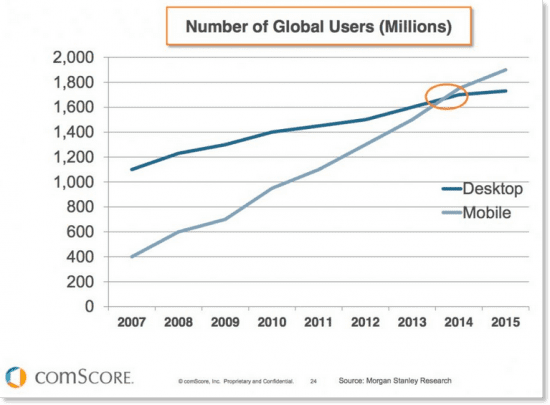 This trend is continued with the use of more mobiles and more people are getting online, especially when Android is coming up and penetrating into the masses so quickly.
Your site must be mobile-friendly. If possible, try to make your website with AMP since that is going to help you in long run.
Want to check if your website is mobile friendly or not for free? Visit Think With Google
To make it more user-friendly, another thing you can do is to have a responsive theme. Responsive WordPress themes are those that change the way the website will open as per the resolution and screen size of the device being used to access your blog or website.
4. Natural Backlinks A Major SEO Factors
We know the importance of backlinks in SEO. Backlinks are the way Google knows which website is more important than others. In the original article and thesis published by Page and Brin, they mentioned all about backlinks and how to measure PageRank from there.
Get Website Insights and Domain Analysis:
You can check your page rank by clicking  on this  link:

Check Page Rank






Now, when the word backlink is heard, people think of directory submissions, commenting using commentLuv, guest posting etc. All these things are fine but when it comes to terms of Google, any backlink created intentionally to spam Google will be considered as spam overall.
And that is why I have used the term natural backlinks. Natural backlinks are those that you acquire without putting your efforts into it.
Google will keep on changing its algorithm and as a writer, you should also keep updating...via pvariel.com
Click To Tweet
Natural backlinks come in when you write epic content and people link to that themselves. That is where you start to get natural backlinks and that weighs much more than anything else. Natural backlinks are one of the vital factors in blogging and need to look into as one of the major SEO factors.
5. Page Speed For SEO
There are studies which tell that most people will leave your website if it doesn't load in within 2 seconds. So you have two seconds – stay or leave.
How to check page speed? I would follow just one link – Google's insight tool.
There are several SEO factors that affect page speed but what as a WordPress site owner what you can do is you can simply remove those plugins that you are not using.
If you are using any shared hosting plan, you may wanna recheck about the hosting plan that you are on and consider of changing if you are able to spend a bit more.
There are many other SEO factors that you can do to reduce page load time like correcting the CSS code etc which might be a bit technical.
6. On-page SEO
On-Page SEO is very critical for getting better ranked and can't be overlooked. This includes optimizing your title, meta, sub-headings, the inclusion of images and optimizing them etc.
Here is a checklist of on-page SEO which we can consider as a checklist and can work on On-page SEO.
For WordPress owners, the easiest way is to use Yoast plugin which can help you with all the on-page SEO issues.
Besides all these, you should also make sure to set right permalink for your site and do not change once you have made it.
Yoast plugin is one of the best plugins to fix many SEO related issues with much ease. via pvariel.com
Click To Tweet
7. Internal linking is one of the main SEO factors
Another key point in SEO factors is Internal linking. I can't emphasize how important internal link building is.  This SEO factor is a very crucial part of SEO today and will remain so for years to come.
What is internal linking? This is: Are off-page SEO and link building the same?
As I said Internal linking strategy is equally important to follow. It tells Google that your other pages approve of a page that is newly created and so on. As per experts' studies, this is one of the important parts of SEO.
Conclusion:
Google will keep on changing its algorithm and you should also keep updating but one thing you need to be very focused on creating value-added content that people want to link to and when you find such content, never forget to link to that.
Linking to others' work does give you positive credits and this is very important for SEO.  I am sure the above-mentioned SEO factors are worth following.
Please do share your views on these  SEO factors.  What are the changes in SEO happens in 2018 and beyond?
We invite your valuable views in this regard.  Share your views in the comment box given below.
Here is a video (tutorial) which explains in detail about the basic steps a blogger wants to know about SEO. Thanks, Daragh Walsh  for this wonderful share. 

This is a Guest Post contribution by Pankaj Dhawan, a young SEO Expert, a full-time blogger from Rajasthan. More information about him is given in the Author Bio Column.  Thanks, Pankaj for your wonderful contribution to the pages of #Philipscom.  I appreciate the effort you put in. Keep sharing. All Good Wishes From Philipscom Team.
First Published April 12, 2017
Last updated on December 10, 2018
Source: Image Credit: FreedigitalPhotos.in
Related articles
Dear Readers, Your Attention Please!
Thank you so much for your valuable time.
I appreciate and love your feedback/comments!
 I accept feedback from my readers and often I do reciprocate.
Your feedback negative or positive, I would like to hear from you.
But there is a slight restriction/rule in this regard.
otherwise, you may miss the mark and your comments may not get approved!
So please do share your views in the comment box keeping the comment policy of Philipscom.
In short, Philipscom will not approve comments that
1.  Are One word or one line.
2.  Are abusive, intimidating, threatening or inflammatory
3.  Make offensive generalizations
4.  Ramble without a point
5.  Use offensive or insensitive language
6.  typed all in CAPITAL Letters.
7.  typed in a language other than English
8.  Are irrelevant to the post in question
9.  Contain self-promotional materials or links
10.  Give 

unnecessary

, advice to Philipscom
Philipscom also reserves the right to edit comments or to remove material that does not conform to our comment policy.
Check your domain ranking