Last updated on April 23, 2020
Your blog traffic can make or break your online sales.
Dear all,
I am so glad to introduce yet another young Professional Blogger from India.  Anil Agarwal is a well known technical expert writer in the blogsphere. In fact, he needs no introduction to the blogging community around the world, especially among the Indian bloggers.    Traffic is an important subject in relation to blogging.  Yes, it is very vital for a blog to sustain! In this Guest, post-Anil reveals 5 Proven Ways to Triple your blog traffic in next 30 days! Read on…   Increasing traffic to a blog or website is hard, especially in the beginning. If you keep on creating more content without worrying about increasing your blog traffic, you will burn out very soon.
Lack of blog traffic is one of the biggest reasons for most people to quit blogging.
If you are struggling to boost your blog traffic, I've few incredible tips for you which can help you build a profitable blog from scratch. Let's find out them without further ado.
How to boost your blog traffic in a month
1. Blog Traffic In 30 Days – Use long tail keywords
Did you know that Neil Patel increased his search engine traffic by over 170,000 monthly visitors just by using long tail keywords?
If you are struggling to increase your search traffic, make sure to start using long tail keywords while creating your content. It's the surest way to triple your blog's traffic really quickly.
Why should you target long tail keywords in your content?
Long tail keywords are REALLY low hanging fruits. They are much easier to rank for and they usually bring you a lot of search traffic because they contain multiple keywords at once.
Here are few compelling reasons you should use long tail keywords while doing keyword research.
Optimizing your blog's content for long tail keywords is easy. It looks so natural and Google gives you reward for NOT keyword stuffing.
Using low competitive long tail keywords (monthly searches below 2000) can quickly increase your blog's search traffic even if you have a new blog.
If you create in-depth and high quality content, long tail keywords can be really helpful in increasing your search traffic (because they usually contain a variety of keyword combinations).
Pro tip: Make sure to target 4 to 5 word long tail keywords such as "low cost sedan cars in Brazil". They can NOT only increase your search traffic quickly but they impact your overall website revenue (if you start using commercial intent long tail keywords).
How to find long tail keywords that can boost your blog traffic?
So how to find long tail keywords?
There are so many ways such as analyzing the keywords your competitors are using, using tools etc. I highly recommend you to give a try to the best keyword research tools such as Keyword Planner, SEMrush, Long Tail Pro etc.
Here's a simple tutorial on finding profitable long tail keywords using Google's keyword planner.
Step 1: Once you log in to your Google AdWords account, enter your primary keyword idea (for instance: how to get flat stomach) that you want to rank for. Then, click on "Get Ideas" to start doing your keyword research.
Step 2: Click on the "Keyword Ideas" to choose the best keywords that are easier for you to rank for.
Step 3: Now, simply pick the long tail keywords that have 4 or 5 more words. By choosing the keywords with low competition, you can rank really quickly by creating great content around them.
That's it! That's how you can use Google's Keyword Planner for finding great long tail keywords to boost your overall blog's search traffic quickly.
2. Blog Traffic In 30 Days – Build rank boosting backlinks
If you are not seeing any growth in your blog traffic even after posting great content consistently, you might be missing ONE important thing: "backlinks".
Whether you know it or not, building quality links is the proven way to increase your overall site's domain authority, search rankings and trustworthiness of your sites.
Why backlinks are so essential for SEO?
Backlinks can be simply identified as "votes" by Google search crawlers. The more links that point to your websites the better search results you will get.
Any blog that's get massive traffic from Google often contains a large number of backlinks.
Make sure to remember not all the links are same. So focus on getting more "dofollow" backlinks from quality sources such as top blogs in your field, .edu sites, authority magazine such as Forbes, Inc. etc.
How to build rank boosting links to triple your blog's traffic?
If you are wondering how to build quality links to increase your overall search traffic, try implementing the following strategies.
Guest posting helps: Although Matt Cutts publicly warned about the low-quality guest blogging, but it is still one of the most effective ways to get quality links for your sites. Just make sure you are spending quality time in crafting your guest posts. Don't pitch any guest post just for the sake of getting links. If you are struggling to find sites to guest post on, here's a massive list of sites that accept guest posts.
Try Quora: Quora is a powerful Q & A platform which lets you connect with a wide range of people worldwide. It has a HUGE community and a perfect place for you if you are looking for ways to get links. Make sure to spend time on writing relevant and helpful answers around the topics you cover on your blog and link to relevant pages from your blogs. That way it also helps you get additional traffic to your sites without spamming.
Blogger outreach: Connecting with other bloggers through emails after posting new contents on your blog is the best way to get more exposure, shares and backlinks. Make sure to frequently linking out to other bloggers and let them know every time you do that. That way you can quickly build relationships with your blogging peers and influencers. Spend quality time in researching, writing and crafting in-depth and valuable articles that others want to link from their blogs.
3. Blog Traffic In 30 Days – Find and fix your website SEO issues
Majority of the low-traffic websites often suffer with SEO or crawling issues. So make sure to find out if your blog or website has any SEO related or site crawling issues. You will see your traffic going up once you fix them.
So how to find and fix your website issues?
Either you can hire a professional WordPress designer to find and fix all your site issues or you can use effective SEO tools such as SEMrush. Hiring someone to fix your site issues usually costs you more, so if you are under budget, give a try to SEMrush.
Here's how you can use it to find and fix all your site issues in order boost its search traffic.
Step 1: Once you logged in to SEMrush, click on the "Projects" to add your website. It will automatically performs the Site Audit and gives you all the issues that your site has.
Step 2: Find out if there are any broken pages or the pages with no meta description, find out all the issues that your website has. Have a look at the below screenshot for a better idea.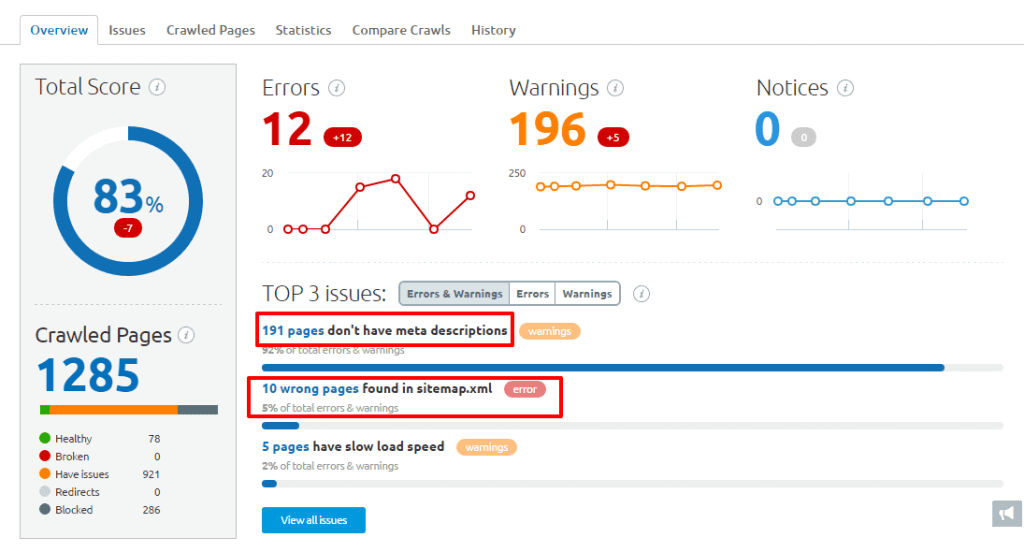 Step 3: Now, all you have to do is to fix the pages that has issues. Once you make changes, SEMrush again gives you a detailed report if there are still any errors or warnings your site have so you can make changes to boost your blog's search traffic.
4. Increase traffic without SEO
"Don't put all your eggs in one basket".
Investing all your time and efforts in ONE traffic source such as Google can hurt you more than help.
Why you shouldn't solely focus on Google's traffic?
What if Google penalizes your site? What if Google suddenly launches a new algorithm that brings all your traffic down? You can't really trust Google every time. Building a profitable blog by focusing on Google's traffic can be a bad deal.
So find out other ways where you can bring more visitors to your blogs who are interested in your content, services and/or products you offer.
How to bring more exposure to your blog without SEO?
Here are few incredible traffic sources to bring more exposure to your blog.
Repurpose your content: The smartest way to increase your blog's traffic without posting new content is to repurpose it. Turn your blog posts into videos, Infographics, memes, eBooks and post them on social media sites to create more buzz. There are a lot more ways to smartly repurpose your content to get more shares and exposure for your existing content.                                                                                                                                                                                                                                                                               

WATCH THIS 1.5 MINUTES VIDEO WHICH TALKS ABOUT REPURPOSED CONTENT
Start building an email list: You can drive traffic, increase sales, build strong relationships and you can do pretty much anything by building an email list. It's one of the most powerful weapons a blogger can have to build a profitable blog from scratch. Give an incentive like a free eBook or video to quickly boost your email list. Also make sure to place more opt-in forms (above the fold, after the post, top of the sidebar, footer) to grow your list fast.
Do interviews with the experts in your field: Are you struggling to increase your blog's exposure? Then, why not conduct interviews with the influencers in your field. Building connections with them first (leave blog comments, write guest posts) and ask them if they are interested in doing an interview with you. Most of the bloggers would gladly do it. Once the interview goes live, ask them to share with their network which in turns give you massive traffic really quickly.
5. Use Twitter smartly to boost your blog traffic
Twitter is a powerful platform to promote your blog and increase its traffic.
Most bloggers don't get any traffic from Twitter is because of one reason: "they tweet their latest blog posts and that's it!". Why should anyone read your tweets or click on them if all you do is "self promotion"?
Spend time in connecting with others, sharing informative posts and retweeting frequently. That way you can grow your fan following and increase your chances of making more money using Twitter.
How to use twitter to grow your blog traffic?
We all know Twitter is always full of trending topics and noisy on every topic under the sun. It really takes some skills to stand out and get more retweets and traffic on your tweets.
Here are few really smart ways to harness the power of Twitter to boost your blog traffic.
Use images. Use compelling images and twitter is not a text-only social platform. They always attract more clicks.
Use hashtags. If possible, try to use the trending hashtags to get more visibility for your tweets. As a rule of thumb, use 1 or 2 hashtags in every post you, tweet.
Use Buffer. It's a great platform to schedule your tweets automatically. They also have a feature where you can send tweets automatically at the times where you get more exposure for your tweets.
Make sure to add your website URL in your author bio. If someone's browsing your profile, they may click on your links if they are relevant to them. Or you can also link to any of your popular content to get more clicks.
Mentioning influencers in your tweets is the surest way to get more attention on Twitter.
Final thoughts about increasing your blog traffic
Majority of the bloggers struggle to increase their traffic because they often focus on creating more content instead of finding ways to make their blog posts go viral.
Think about creative ways to get more attention and exposure to your blog's content and you will soon start noticing traffic growth.
So what are your thoughts? Let me know if you have any more proven tips to double or triple a blog's traffic. Share your views in the comments.
Sincerely Yours
Anil Agarwal
Author Bio: Anil Agarwal is a Professional Blogger from India, a well-known technical expert writer in the blogsphere. He writes about how to make money blogging through his page BloggersPassion and help other bloggers to guide to get into the field of blogging.  He explains it well about proven blogging tips and affiliate marketing strategies through his pages.  You can read more about this gentleman and his activities through his page HERE   And can reach him through his Facebook And Twitter pages.
Disclaimer:  This is a guest contribution to Philipscom and the tips tricks, strategies mentioned in it does not reflect the view and opinions of P V Ariel or Philipscom blog. For More Information Read This
Updated on: Jun 19, 2018 at 00:29
Updated on June 18, 2018
First appeared on May 4, 2016
Dear Readers, Your Attention Please!
Thank you so much for your valuable time.
I appreciate and love your feedback/comments!
 I accept feedback from my readers and often I do reciprocate.
Your feedback negative or positive, I would like to hear from you.
But there is a slight restriction/rule in this regard.
otherwise, you may miss the mark and your comments may not get approved!
So please do share your views in the comment box keeping the comment policy of Philipscom.
In short, Philipscom will not approve comments that
1.  Are One word or one line.
2.  Are abusive, intimidating, threatening or inflammatory
3.  Make offensive generalizations
4.  Ramble without a point
5.  Use offensive or insensitive language
6.  typed all in CAPITAL Letters.
7.  typed in a language other than English
8.  Are irrelevant to the post in question
9.  Contain self-promotional materials or links
10.  Give 

unnecessary

, advice to Philipscom
Philipscomalso reserves the right to edit comments or to remove material that does not conform to our comment policy.
Check your domain ranking